Brandy Cinnamon Wages - The Country Singer
"OK, Charlie, I am flattered that you like to draw pictures of me; big tits, big ass, big hair. Big deal.
But I've got a story, and I have a voice, and if you listen carefully, we just might get some of it right.
It's hard, because there are all kinds of people in my story, and I know I will get things wrong. My sister Crystal always tells me I tidy stories up too much, and I am well aware that you will tidy it up even more.
But maybe people will understand that everybody has a voice, and they will hopefully get the idea that it is worth seeking the true voices, and listening. Because the true voices are there, speaking to those who will listen beyond what they first hear, beyond what is in this story, beyond what you come across easily.
Listen for the true voices. Your life will be better."
interview excerpt:
Charles Vincent: I want to ask you not only about the songs you write, but also the songs that you cover. In particular I would like to know how you decided to cover 4'33" by John Cage?
Brandy Cinnamon Wages: Well, I do mainly country and I love it, but I have done other kinds of songs; my version of a rock song or even a hardcore punk song, but done with my sound. Then I wanted to stretch my catalogue even more. It seemed a good way to free myself completely and blow it wide open would be to transpose John Cage's piano piece of four minutes and 33 seconds of silence for my guitar.
CV: Before we say anything more about it, I would like to give you a chance to respond to people who have accused you of colouring the piece with sentimentality. How do you reply to that?
BCW: Yes I have heard that a few places. I don't know what they are talking about. I am not doing anything to it. I can't colour it with anything. It's silent. If some arts-feature person or music writer gets sentimentality from it, then they brought it. I'm just standing there. You make what you want of silence.
CV: Maybe they see some sort of Romanticism in it because of you standing there with your wings outstretched?
BCW: I can't help it if I have wings. If they think I am Romanticized that's just the way I'm made. So too bad.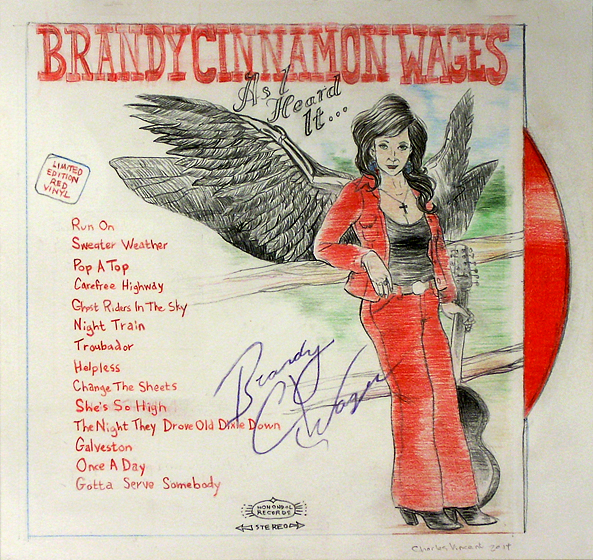 CV: You have it on a record, and you have sometimes performed it live. What is it like performing that live?
BCW: It can be very nerve-wracking, but I have found it worth doing. I haven't done it very often though. Maybe nine or ten times, enough to get it noticed. Reactions vary: shuffling, people yell they want their money back, some confusion, some patience, some appreciation. Once a woman cried very openly. It was the only sound, the rest of the audience just froze and she just kept going, weeping away to the end. I did it one time on a quick tour in the U. K., at a little place just around Bristol. Everybody was very drunk, and they started to stomp and cheer, shouting and laughing, it was one of the rowdiest reactions I have ever had for any song, and it gets pretty rowdy sometimes. That was fun, the mood was good, but it was still unsettling. It always is. Even when it's fun it's like I am staring down the zero of oblivion. I have put it on the set-list a few times and then chickened out when it comes around.
CV: What, you? You chickened out? How does that work?
BCW: I just shake my head "no" at the band and we skip it and play the next song. Sometimes it doesn't feel like it's going to work; I guess I would say it feels like it isn't going to be worth anything. I don't want to do it, and we don't. It's like this — sometimes I will be with a total country music audience, and I will start playing what would be an expected song, like Rose Garden or a Tammy Wynette song, and then I think "This isn't working. I wish I could stop." So if that can happen, this crazy silent song could feel even worse. I am not a nervous performer at all, but I'm not always up for it when it rolls around.

CV: I have seen you play live and I am surprised you would chicken out of anything!
BCW: Well, I'm me, and I am not surprised. Sometimes it is easy doing things that people don't expect or that shake them up a little, but sometimes you can just barely do it. It's like a Cowardly Lion thing, you know, a simple Wizard of Oz lesson. Bravery is just doing it even when you're scared. Think of musicians who have made a way bigger stir than I ever have, The Dixie Chicks and their story, The Beatles and the Jesus thing. They kind of shook up politics or religion half by mistake, and then they worry defiantly, or say sorry or don't or whatever. Or in a different way, sometimes an audience doesn't complain but just don't quite get what you're up to, and you just soldier on.
CV: With you, I would think you just sort of lay it on the line and let people take it.
BCW: Sure, sometimes I do, sometimes no. Come on, I've seen your artwork, I know some of it has gotten people irritated or at other times baffled. Haven't you ever experienced any of what I am talking about?
CV: Um, this interview is supposed to be about Brandy Cinnamon Wages, not about my artwork…
BCW: (Laughing.) OK! I'll bet it is! I want you to listen to that sentence that you just said. (More laughing.)


Brandy Cinnamon Wages
The Wages of Cinnamon
Deliberately
August Skies
Dream Again, Darling
Me and Athena
Don't Want To Know If You Are Lonely
Timmins Blue
Just A Thought
I Thought You Said You Had A Fever
I Don't Wanna Play House
Can't Touch A Dream But You Can Feel It
Sunday Mornin'
Pink Moon
4'33"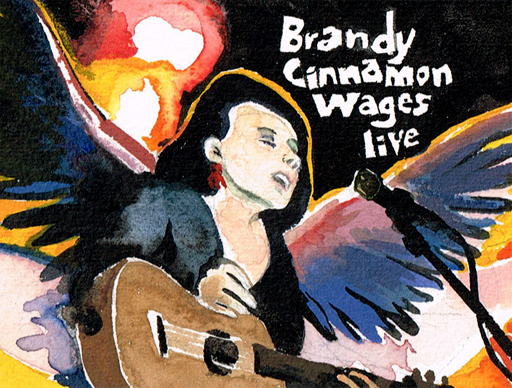 Can't touch a dream
But you can feel it
One can't buy love
But two can steal it
I'll always keep you
In my heart and in my mind
'Cause love is something
That we steal from time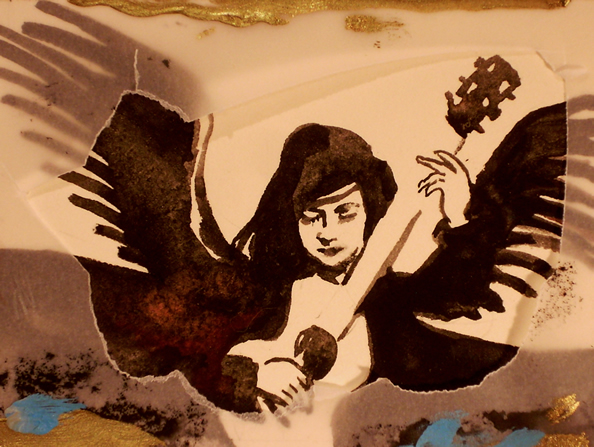 Playing Through (Brandy Cinnamon Wages)
...
"I had better get started," said Brandy.
"You're not afraid to go in there?"
"Sure, I am scared shitless. But if I have to go into the void, I am as ready as I will ever be."
"You're very brave," said the sand master.
"I don't know about that."
"How did you get to be so brave, Brandy?"
"If I don't know if I am brave or not, how can I tell you how got that way?"
"And you have a curious mix of modesty and sarcasm. That's interesting. I like stories. I am not a good teller; but I am a great listener. What's your story?"
"You want me to tell you how I got here?" asked Brandy.
"Please. That would be a nice. Sometimes when things just go into the void… whoosh! I don't even know what they are when they are going by. You don't really belong, so it will take you longer to get in, as you sort the sand and unlock the fog. One good way to pass the time would be for you to tell me your story."
"What do I tell you?"
"It would be lovely to know what made you so very brave. To help me understand, you could tell me about everything that ever reached your heart."
"I am a fifty-seven year old woman. So a lot of things have reached my heart, and a lot have been taken from it too," said Brandy. She outstretched her wings behind her, as she knelt on one leg, and pushed a first little pile of the black sand together out of the chaos, using a piece of card from her sandwich packaging. "So where do I start this story?"
The sand master asked, "How far back can you remember?"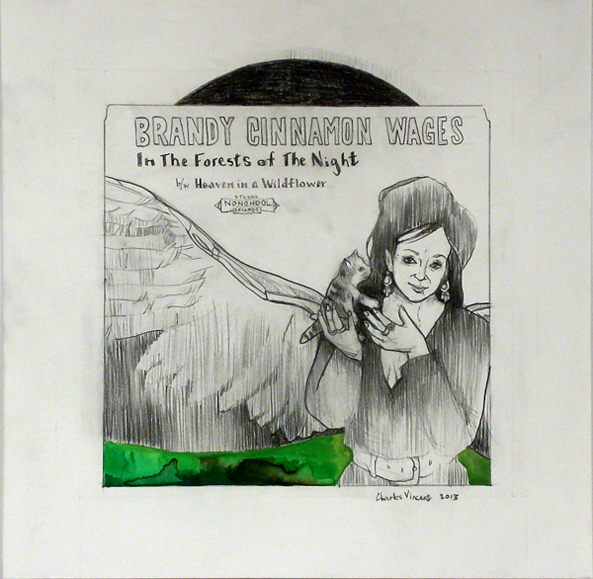 Brandy Cinnamon Wages - In The Forests of The Night b/w Heaven in a Wildflower
45 vinyl on Nonondol Records
... I got out my phone and looked for the address of Stacy Oracle's book signing, and Spudz pulled the bus up in front of the bookstore at my request when we got into town.
There were always a few guys like Spudz around. He had been brought through from the regular world by a winged woman named Karen, but it hadn't worked out. But he stayed. He would need Karen or another winged woman to take him back, and then he wouldn't be able to get back in. He must not have liked his life before enough to go back, or he had something here, or someone he was hoping for. As much as he talked, he never talked about what he had left behind. Not my type, cheerful and friendly, but too complacent. If he did go back, I could easily imagine him in the regular world though:
"I drove an entertainer sleeper coach for angels and fairies!"
And then people would say, "OK Spudz, sure."
Spudz opened the door for me and I stepped down.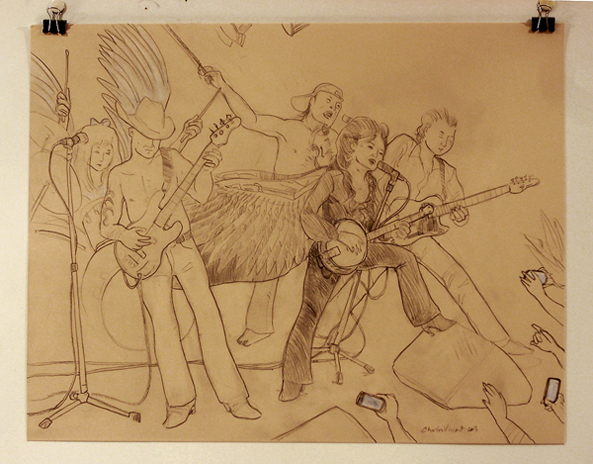 I feel so trashy
Somebody oughta take me out
I might not come from much
But I can show you what life's about
zoom (new tab)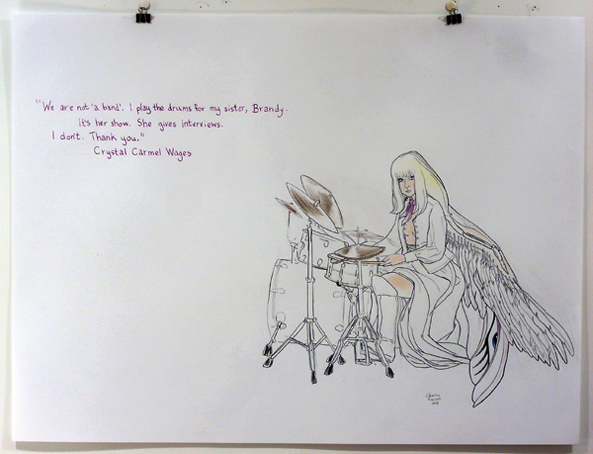 "We are not 'a band'. I play the drums for my sister, Brandy. It's her show. She gives interviews. I don't. Thank you."
- Crystal Carmel Wages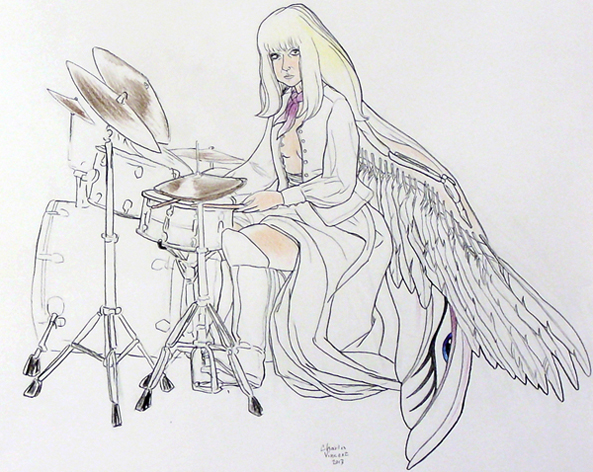 I followed my newly blonde big sister downstairs and into the rec room. We reached the bottom of the raggedly carpeted stairs, and again I was confounded completely by what I saw.
There was a full drum kit, all white, sitting in our basement.
"You met a drummer?" I blathered.
"No dummy! Those are mine. I AM a drummer. You have your friend Brian for your bass guitar player, and you found Duffy to play electric guitar for you, but you said you couldn't find a drummer who would give you the time of day, and you were giving up.
"I don't want you to give up on any part of this. I think you are really good.
"I am your drummer," she said.
I was silent. Had I just walked into another world?
"How did you pay for them?" I finally asked.
"With my cashier job, and Dad helped."
"You let Dad spend money? You're always trying to stop him. I thought you said he would be done for, without our room and board."
"I am going to pay him back, first thing, as soon as we start making money playing music. He'll just spend it again, but I will feel right about it, at least."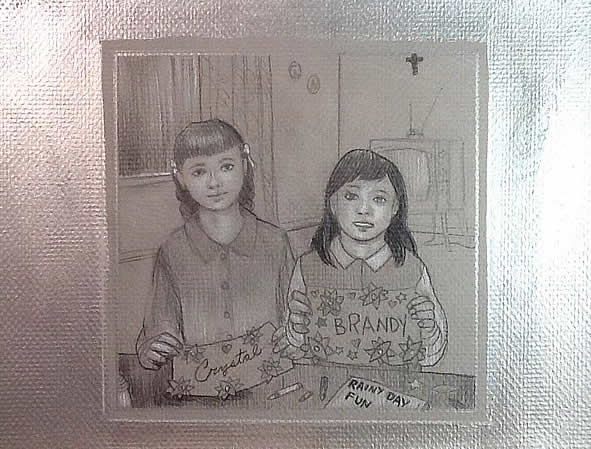 Rainy Day Fun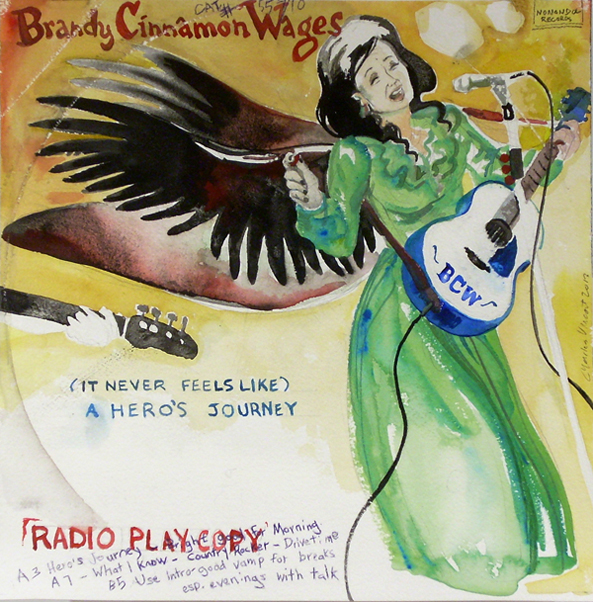 Brandy Cinnamon Wages - (It Never Feels Like) A Hero's Journey
LP on Nonondol Records

As my band and I were touring around The Winged World that May, we were going to be playing a concert in Montréal, or at least our version of Montréal. The winged city there is called Mondureel, which is a sloppy French pun, which either means "world of spinning dance", or "my God it's real" depending on who translates.
The Winged World city names didn't get any clearer in English. The city where I was based was called Nonondol, which either means "never-never dolls", or "no we're not dolls" depending on who you asked.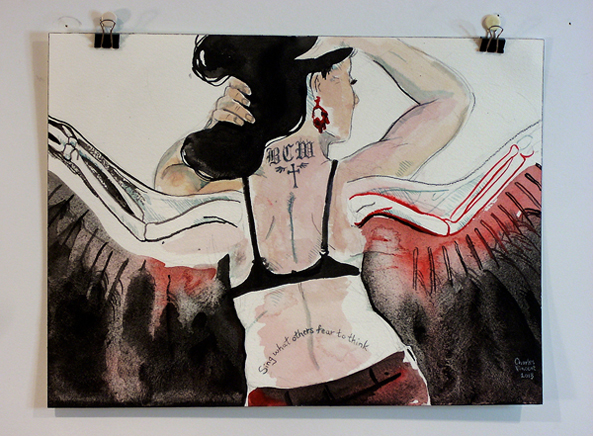 BCW "Sing what others fear to think"
I tried to roll over. Not only was there something that looked like egg whites all over the place, there was something in my bed with me, behind me. Something alive. It was big, and pitch black, and it moved when I moved. I jumped out of the bed in terror. Whatever it was came leaping out of the sheets right behind me. It was on me. It was attached to me.
Horrified, I realized that I seemed to have grown some new parts.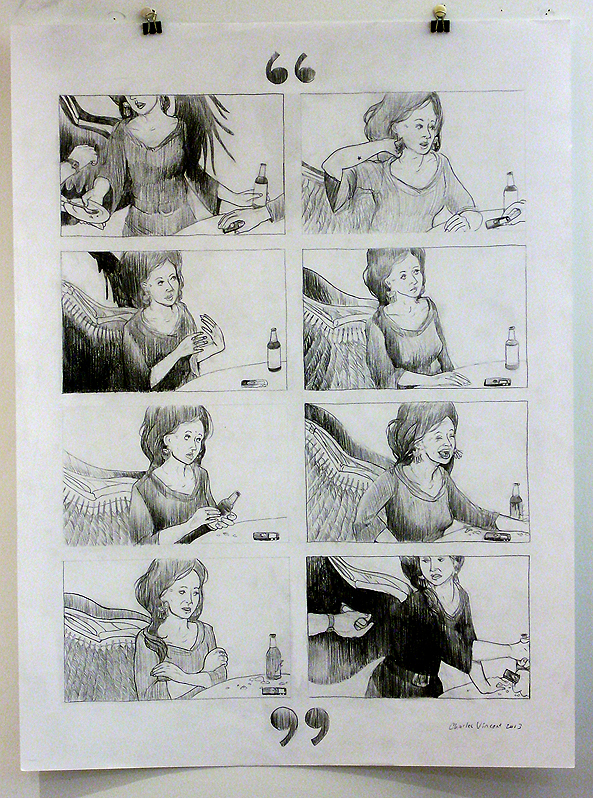 Brandy Cinnamon Wages interview without text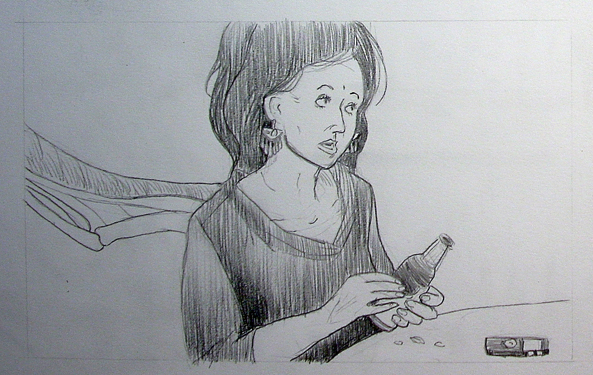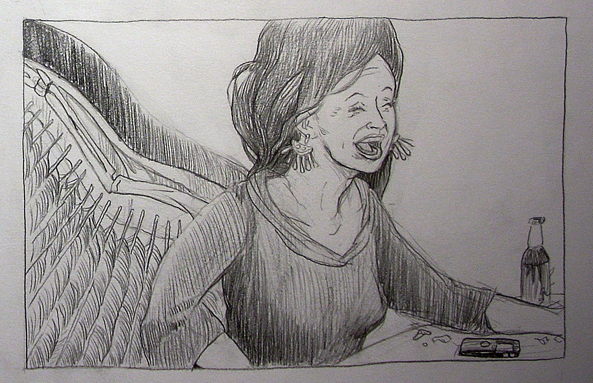 frames from an interview without text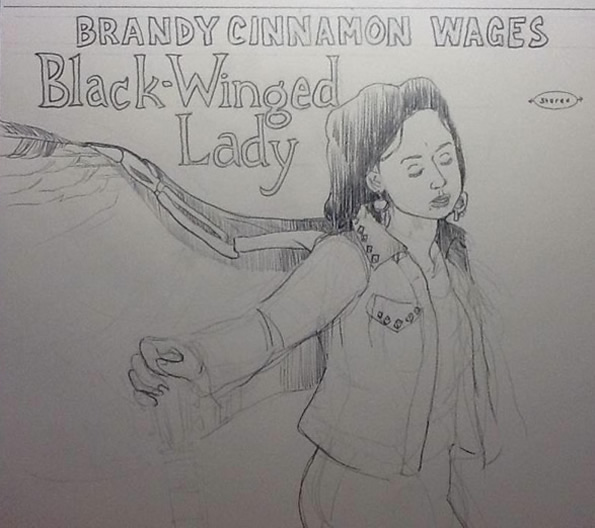 The Black-Winged Lady <- Stereo ->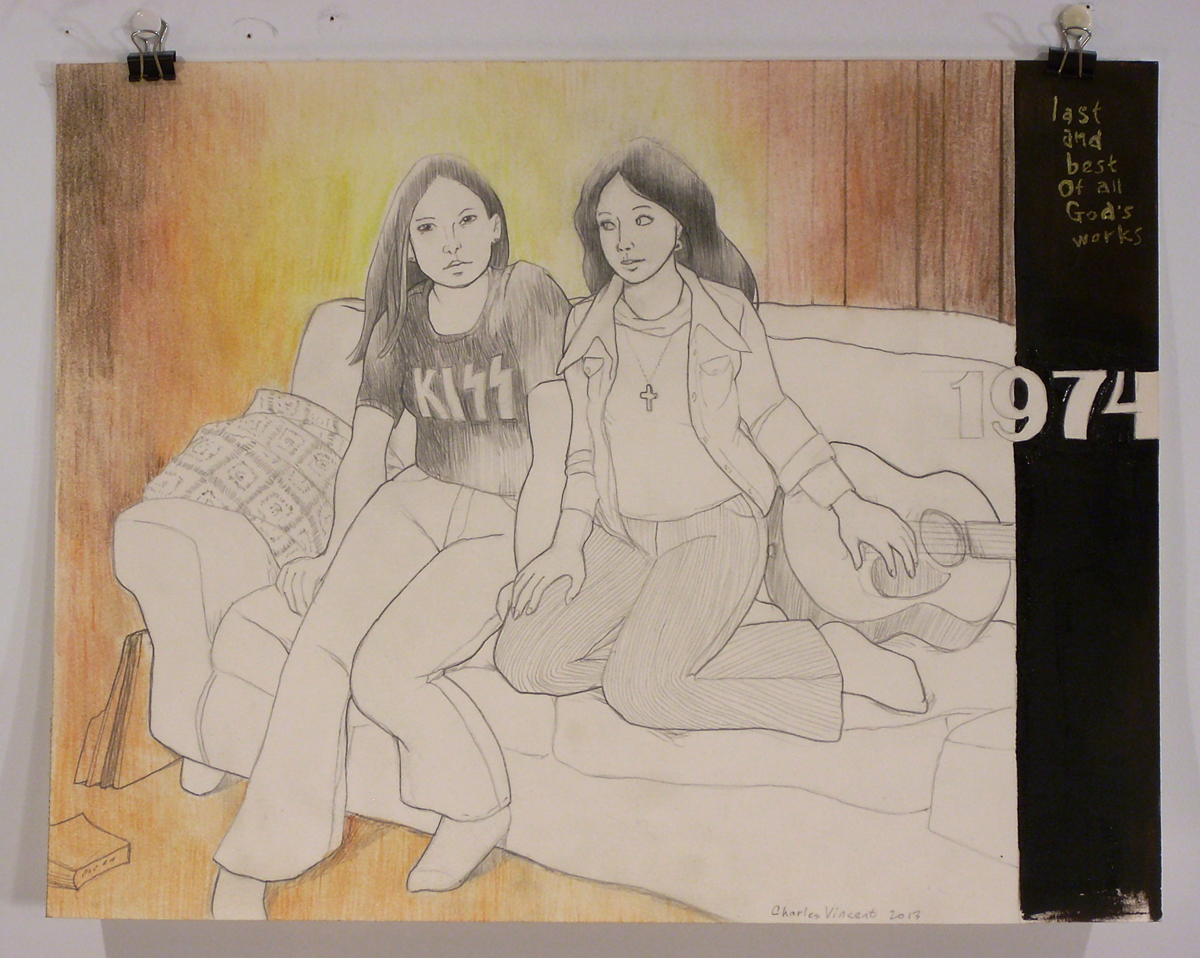 A picture of Brandy (pre-wings) in 1974 hanging out with her friend Evangeline.
zoom (new tab)

"What are all these books here?" Evangeline asked, looking at a haphazard stack of books on a brown shelf beside a curious collection of oddball nick-knacks; a plastic Virgin Mary, a little pitcher that sat on ceramic daisies under a weird porcelain tree, a translucent globe with a butterfly molded into it. "Are these all books from your churches?"
"Yeah, those are from my Mom's book club. But they're not all normal church book-club things, 'cause my mom is involved. So there are all these old historic books, that like only a scholar or something would look at, and there's a series of weird religious romances that started to make people mad even though they are supposed to be Godly, and there's even tracts and books from other churches and stuff. It's pretty crazy. I don't think too many people there read all of it. The church puts up with her bringing this stuff up, but just barely." I didn't tell her that my mom had once been fired from teaching Sunday school for her bizarre perspective on theology.
"So, every flavour of spiritual colonialism available?"
"Sure." I tried to play a few licks on my guitar; tried to make it sound cool.
I watched her as she picked through the books, reading things at random, her fingers gliding over the pages and turning them, sometimes one by one, sometimes in chunks. Her brown eyes darted around, taking things in, with the look of determination of an explorer in uncharted and potentially hostile territory.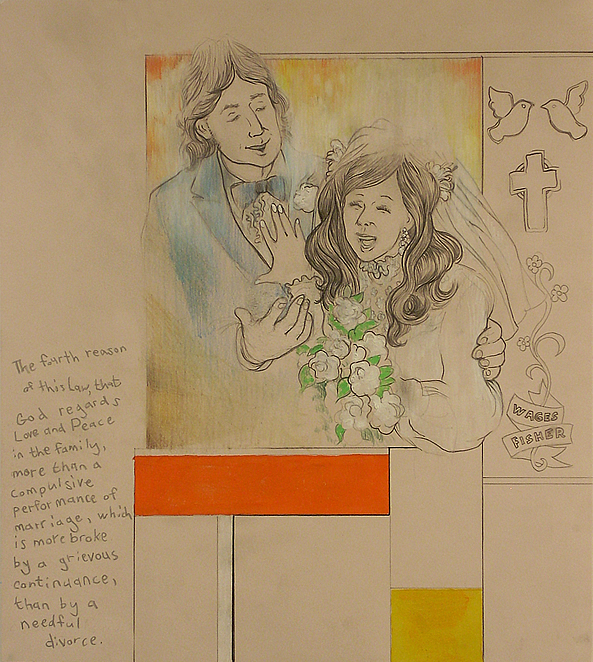 zoom (new tab)
The Fourth Reason of this Law, that God regards Love and Peace in the family, more then a compulsive performance of marriage, which is more broke by a grievous continuance, then by a needfull divorce.
Text from John Milton - The Doctrine and Discipline of Divorce -1644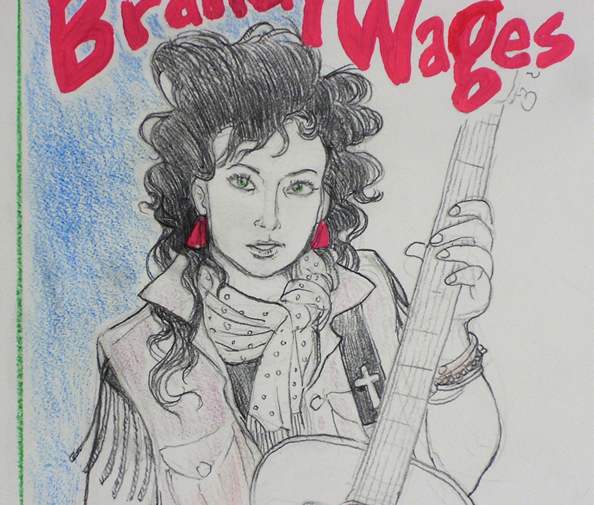 '80s Brandy. Still no wings yet.
"I don't know why I dropped Cinnamon from my name for a while. I'm not doing that again."
On a snowy evening, my daughter Angela was sitting in the little apartment kitchen, at the table, with her collection of markers and stamps and stickers. It was a real mixed bag of things, a bunch of mismatched felt markers and crayons, and little stickers--mostly geometric shapes and hearts, and also a wild bunch of designer and printer's decals that my father had given to her on his last visit from the west coast. My mom and dad had said they were going to visit again shortly, but that could mean anything. I doubted it was going to happen for Christmas.
Last time they had flown here, and then revealed they hadn't bought return tickets, and then scraped together some money from everybody so they could rent a car. Then they drove back to British Columbia in some sort of crazy excursion.
On that visit, my dad had given Angela a bunch of odds and ends from his freelance work as a photographer and designer. Bits of coloured tape, cast-off sheets of rub-down transfer letters in incomplete alphabets, and some sheets of printers' marks used for lining up the presses. Angela was now patiently applying those printers' marks to a piece of paper, arranging them across the the top half of it at random.
"What's going on there, Angela December?" I asked her, as she worked away diligently. The printers' marks looked like little crosses to me.
"These are the stars over the snow," she said matter-of-factly, returning to her work, and then selecting a light-blue marker, scribbling out a zig-zag-shaped area nearer the bottom. "It's cold."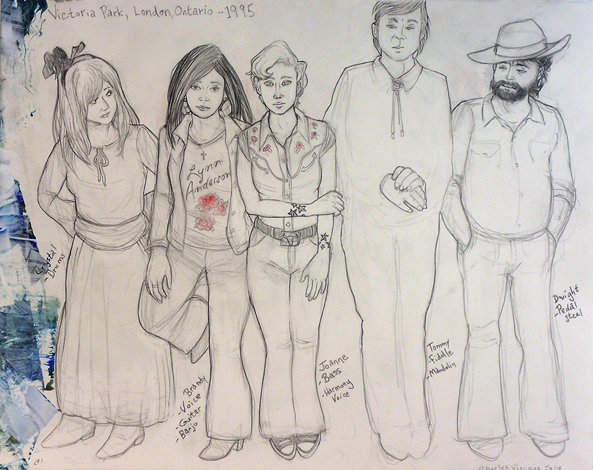 Brandy and band at Victoria Park in London ON, in 1995
zoom (new tab)
I stood close to Joanne for a moment, and I touched her face with my hand, and looked into her eyes, but she still looked dejected, squinting into the afternoon light, hiding the sweet blue behind her scrunched-up eyelids.
"I forgot my sunglasses. I'll catch up in minute, Brandy," Joanne said. She looked gloomy as she stepped back on the bus, and I slumped in disappointment and turned and headed for the bandshell.
In the crowd milling around at the festival, a couple of guys saw me trying to be affectionate with Joanne. I didn't even kiss her, but it got these two upset.
"Did you see that Ross? They're lezbos," said the first.
"More dykes playing my beloved country music, it isn't right," said the guy who must have been Ross.
The first guy yelled at me, "Hey baby! Go to church and read the Bible! It's Adam and Eve, not Eve and Steve!"
"Fuck, sober up, Bill," said Ross to him, laughing. "You're supposed to say Adam and Steve."
"Bah, you get it. The whole thing gets me screwed up. Doesn't make sense. She just needs a little convincing. Hasn't done it with the right guys."
"OK, you got that right. But hey, look on the bright side man, maybe you could have a threesome with both of 'em!"
"Or a foursome, what do ya say, buddy? They look like the type that could take it," said Bill loudly at me, elbowing Ross.
I thought it was funny how these guys' conversation came around so quickly to the idea of both of them getting all naked and horny together.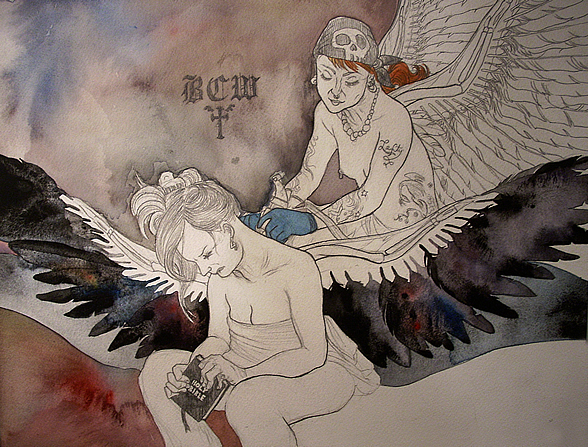 Brandy getting ink from Lefty.
zoom (new tab)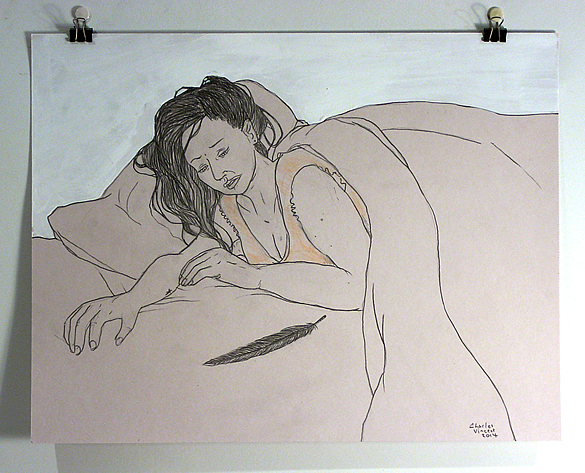 The Change
Back to top ^
Link out: CharlesVincent.ca

site and content © Charles Vincent 2009-2015